Experts in:
Heat sensitive
viscous fluid operations
Devolatilization
of viscous products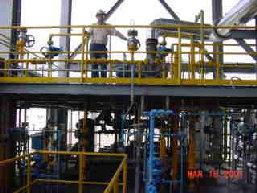 We are pleased to announce our new business organization to include EPS! Our new name, Polysty, is a more accurate description of our core business.
POLYSTY has had the honor of serving clients in North America, South America, Asia, Europe, and Mid-East for over 15 years. The principals of Polysty have over 100 years combined experience in manufacture and development of styrene-based and other temperature-sensitive polymers. We are in a unique position to help maximize manufacturers' profits in GPPS and HIPS POLYSTYrene, SMMA, EPS, SAN, ABS, and other thermoplastics, faster and more economically than any other company in the world.
To Contact Us:
Direct: 978-582-4552
Fax: 978-847-9623
Email: pds@polysty.com
POLYSTY Inc.
(formerly PDS Inc.)
72A Peninsula Dr
Lunenburg, MA 01462 USA