Experts in:
Heat sensitive
viscous fluid operations
Devolatilization
of viscous products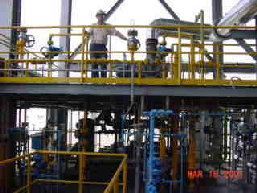 We are pleased to announce our new business organization to include EPS! Our new name, POLYSTY, is a more accurate description of our core business.
POLYSTY has had the honor of serving clients in North America, South America, Asia, Europe, and Mid-East for over 10 years. The principals of POLYSTY have over 100 years combined experience in manufacture and development of styrene-based and other temperature-sensitive polymers. We are in a unique position to help maximize manufacturers' profits in GPPS and HIPS POLYSTYrene, SMMA, EPS, ABS, and other thermoplastics.
To Contact Us:
978-582-4552 direct
978-847-9623 fax
email: polysty@polysty.com
POLYSTY Inc.
(formerly PDS Inc.)
56A Arbor St.
Lunenburg, MA 01462 USA